Vintage Base Ball Game & Mustache Contest
May 18 @ 12:30 pm

-

2:30 pm
The Mount Tabor Historical Society is hosting a Vintage Baseball Game as part of the 150th Anniversary year celebrations! There will be two games of Base Ball, and between games there will be a Mustache Contest!
There is a proud history of Base Ball in Mount Tabor, for years teams played for the Mount Tabor Field Club. Come out and see how differently base ball was played in the 1800s! From uniforms, game rules and equipment, times have changed. Are you game to see if you can catch a ball with no glove?
The Neshanock Base Ball Club of Flemington plays by 19th Century rules, uses authentic replicas of 19th Century equipment and wears 19th Century uniforms. As was the custom in the mid-19th Century, all fielders play barehanded – we do not wear gloves. The club is a non-profit organization that looks to inform the general public on the roots of our National Pastime.  Think of them as something like Civil War re-enactors, except they use a bat and ball instead of rifles and bayonets.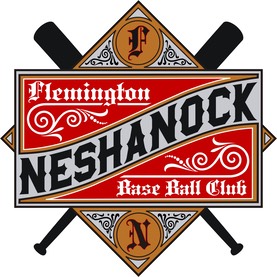 The original Neshanock club was established in July 1866 and comprised mainly of the town's prominent constituents.  The President was George F. Crater, owner of Crater's Hotel, which was on the spot of what is now the Union Hotel.  The Neshanock were apparently not very skilled ballists and often lost to their chief rivals, the Lambertville Logan, by the not-very-competitive scores of 77-25 and 71-47.  Unfortunately, no records of the Neshanock are apparent after August 1867.
Today's Neshanock were re-established in 2001 by Brad "Brooklyn" Shaw, proudly reviving the original name of the team (but hopefully not imitating their base ball skills).